This unit is much different than the units we have looked at so far as it is the first unit we are reviewing without the bag-less dust canister option. This small, compact and lightweight unit is highly versatile and according to users, even though you are using a bag, it will last you a long time!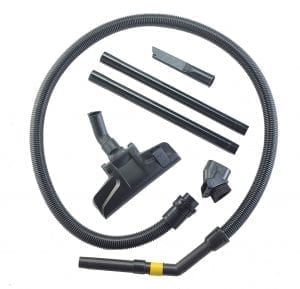 This vacuum is great for toting around the house and cleaning all your messes big and small. It has a compact design and comes in among the lightest of the contenders at just about 9 pounds. This makes it ideal for toting up and down stairs and even carrying out to the garage or driveway for a quick vehicle vacuum.
I really like the design of this one because I can see this easily storing in small spaces and yet being accommodating enough to reach all those small, hard to clean, places throughout the home.
This unit is great for use around the whole home and it does have a low cost up front which I find appealing. For the price you not only get one of the best vacuums for your tile floors but also something that will help you effectively clean the living area, bedrooms and even your vehicle. All without breaking a sweat!
My favorite feature of this vacuum has to be:
The power code/extendable hose options.
I can't imagine a better scenario where my household vacuum can not only powerfully clean my floors but also reach places that are hard for me to reach.
Because of the design, this unit implements is ideal for getting right up against baseboards, under furniture and even vacuuming up high for ceiling fans and high ceilings.
This vacuum really does eliminate the need for other dusting/cleaning units by being so versatile. The design also makes it great for storing neatly, even in the smallest spaces.
Cons of this unit:
The bag is easier to clean than bag-less options.
As you can see the Pro's outweigh the Con's if you are considering a purchase of this Eureka vacuum for your tile floor cleaning needs. A note on the bag option is that several of the users reported the bag being quite large and lasting up to 6 months continually. Also changing is a breeze and mess free so it isn't like your grandmother's old bag vacuum!