If you're looking for a compact, but powerful vacuum cleaner, Eureka is a top choice. They're a leading brand, and their EasyClean is a great choice when it comes to handheld vacuums.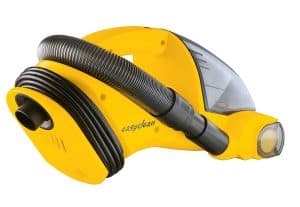 The EasyClean vacuum is small and compact, so you can easily store it. It also provides flexibility with its cord and nozzle that reach 23 feet. Thanks to its revolving brush and Riser Visor, you can use it on various surfaces. This includes not only stairs but also floors in general, upholstery and cars.
For ease of use, the EasyClean vacuum also features a washable dust cup. We liked that this meant we didn't need to bother buying replacement bags. The dust cup was simple to remove and empty when we were done vacuuming. On top of that, this vacuum cleaner also comes with a washable filter.
The only downsides we could find concerning the EasyClean vacuum is that it's not a suitable replacement for traditional vacuum cleaners. This is a handheld item, so it's recommended that it be used for shorter periods of time. It also blows a strong current of air out the back, so avoid pointing the back toward dusty areas.
Features:
Handheld model
Weighs 4.8 pounds
2 individual motors
Revolving brush
Riser Visor for horizontal surfaces
Fingertip controls
20-meter cord and stretchable hose
Washable dust cup