The Etekcity Upgraded Air Mattress is very comfortable yet firm enough to provide stable back support like a real mattress. It's "high enough off ground" for climbing on and off easily and stable enough not to collapse at the sides when sat on. A few people find it a little uncomfortable and too firm.
On one hand?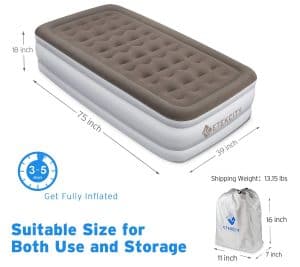 Air retention is decent. Some people say it stays inflated and doesn't leak, like adult users who slept in it for
four nights in a row without needing to add air;
35 days and adding a little air to it twice;
three months and adding air every three days for a few seconds;
two years (on weekends and sometimes for a week at a time) with it going strong
On the other hand?
For others, the Etekcity Upgraded Air Mattress started to leak after a few uses or within a couple of months. We also read reports of one mattress ripping within one month and two arriving with holes.
Nevertheless
Owners commend the manufacturer's customer service in promptly replacing defective items under warranty.
An internal pump inflates the mattress in three to five minutes for a quick set-up. Deflating and folding is easy. Users recommend purchasing deep-pocketed fitted sheets.
Not again…
The Etekcity Upgraded Air Mattress size is smaller and shorter than expected for both the twin and queen models.
Features
Dimensions (inflated): 75" x 39" x 18" (twin); 80" x 60" x 22" (queen)
Dimension (deflated): 14.5" x 13.5" x 7.5" (twin); 17.4" x 13.5" x 8.3" (queen)
Weight: 13.15 pounds (twin); 23.15 pounds (queen)
Maximum weight support: 550 pounds (twin); 650 pounds (queen)
0.4mm-thick nontoxic PVC sides
0.2mm-thick flocking top
One-year warranty