The designers behind this Estwing hammer combined the past with the present. This tool has an old-world feel thanks to the comfy leather grip but is designed drive, demolish and pull with the best of them.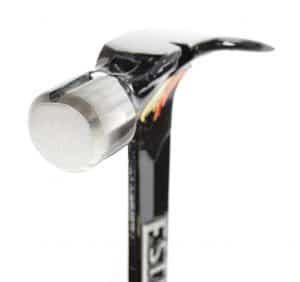 The Estwing Ultra hammer is a 15-ounce hammer from the Ultra leather series. It's built to be strong and light with a slim profile in the middle the company is famous for. It's sturdy considering it's forged from one piece of tool steel, so there are no weak spots or joints that can fail. You can pry away with this one, but that's not all it can do.
Rip and Pull…
Hammers with a rip claw can tear through sheetrock or pry board apart with ease. They aren't always ideal for nails however due to leverage, but the Estwing Ultra is an exception. It has a notch in the side of the head that provides a bit more torque than the backside claws. As for the handle, it's not as comfy as others but is covered in leather, sanded and then lacquered which gives it a unique look.
This Estwing hammer is available with a milled or smooth face and is a good hammer for general use with only one real drawback. That lovely handle isn't the best choice if you use your tool on a daily basis so this one is more for the garage than the job site. The hammer is made in the USA from American steel and has a solid if somewhat confusing warranty.
There is also a smooth face model with a shorter handle but all clock in at the same weight.  If you prefer a curved claw but still like the leather handle, check out this variant that's available in 12, 16 or 20 ounces.
Features
15-ounce head
Smooth or milled face
Side nail puller
Leather grip