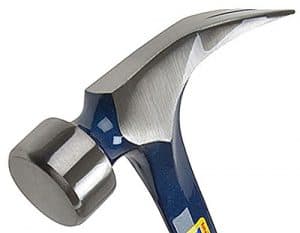 Our second Estwing hammer is just as outstanding as our first option – this one is only built for framing. The E3-25SM hails from their BIG BLUE lineup and sports all the features that made the company famous over the years.
From the forged head to the shock reduction grip, there is a lot to like about this framing hammer. It's a one-piece hammer so you'll never need to worry about the head flying off. You'll also be able to tear through a variety of materials thanks to the big rip claw on the back. It's not titanium, but prying won't be an issue with this one.
The neck is slim and tapers down from the head before widening at the grip. At 25 ounces, it has plenty of weight so you'll be thankful for the shock reduction grip at the end of the day. It's said to reduce vibration impacts by 70%, and while that's something we can't test, I can attest to the fact it does cut things back considerably.
This Estwing framing hammer is 18 inches long, and while we chose the milled face, a smooth-faced variant is available as well. It's made from high-quality materials in the USA just like the rest of the Estwing family and should be an option if you're looking for the best framing hammer.
Features
25 ounces
One-piece design
Rip claw
Made in the USA
18 inches