Do you want to lower the temperature in your home or office during the summer? Then an evaporative cooler is a great choice, provided you live in a suitable climate. You can check whether you can efficiently use an evaporative cooler in your area in the Buyer's Guide section of our article.
The Essick N46W is a great choice if you're on the lookout for a quality evaporative cooler. This unit is made from high-quality materials, and is great for cooling large spaces – up to 1,400 square feet! It can significantly lower the temperature without costing you an arm and a foot.
With two cooling speeds and great adjustable air vents, the Essick N46W can be adjusted to fit your needs. Whether you want to lower the temperature just a bit, or you want a really cool room in the middle of summer, you can make it happen with this cooler. It cools down your space quickly and efficiently.
Here's the deal: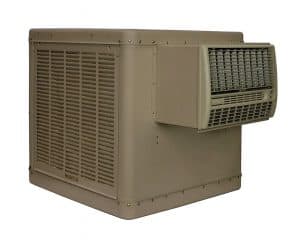 Evaporative coolers are made to cool spaces without using much energy, so if you buy this unit, you will see that it's amazingly energy efficient! Its media pads are both durable and economical because they're made from Aspen tree fibers in a thin plastic netting.
When it comes to its construction, this unit doesn't disappoint. It has a bolted construction, which means you can easily access all the parts for potential replacement, and it's also highly durable. You can keep it in damp areas because it's resistant to rust.
Made from heavy-gauge galvanized steel and with a polyester powder coated finish, you can be sure this unit will last for a long time. You can even keep it in uneven areas because it features a leveling leg.
It gets even better:
Another great feature of this unit is that it's unusually quiet for a unit of its size. It also features a permanently lubricated pump. The Essick N46W comes put together and ready to use – simply connect it to a water supply and it's good to go.
And the good news is that you don't have to call a plumber or professional to install this unit. The installation kit comes with the product, and we've found that the installation process itself is a breeze even for amateurs.
The only downside to this unit is that it's quite large and heavy. It doesn't feature wheels, so it can be a pain to move around.
Features
Cooling capacity: 1,400 sq ft
Indoor use
2 cooling speeds
Adjustable air vents
Bolted construction
Heavy-gauge galvanized steel
Polyester powder-coated finish
Comes with Aspen Media Pads
Features a permanently lubricated pump
Features a leveling leg