ESP isn't as well-known a brand as Fender or Gibson, but if you're in the market for an affordable guitar it's definitely a brand worth checking out. Across their product line, they provide high quality for a lower cost. With the Amazon Exclusive EC100AT, they push the value they offer to the next level, with fantastic sound and a sleek look.
On that note: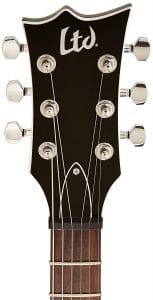 The profile of the EC100AT is a familiar single cutaway design, but if you turn it to the side you'll see one way it's unique. It uses an arch top, a feature you'd find on higher-end electric guitars. This improves the resonance and tone quality across the range. The waist also narrows further on the back than on the front so it's more comfortable to play.
This is also a very responsive guitar with a high dynamic potential. The pickups have designated volume controls, with a master tone control to further adjust your sound. This tonal versatility makes it especially great for a beginner on a budget who isn't quite sure yet what style of music they want to play.
Another thing that makes this model great for beginners is its ease of use. It's quick to tune and stays in tune well, unlike some super-budget options. Some players also find the larger frets and robust neck easier to play, since you won't have to press quite as hard to make the notes sound.
The downside of this is:
The notes will be more likely to go out of tune. The neck is also on the wider side, so it's not the best choice for players with small hands.
Features:
Weight: 9 pounds
Scale length: 24.75"
Frets: 24 jumbo
Tonewoods: Basswood body, maple neck
Body shape: Single cutaway
Neck shape: Thin U
Hardware: Tune-o-matic bridge
Pickups: Passive ESP