Don't be put off by the large amount of screws and cords in the packaging, because this EShine product promises quality. We like the design, we love the versatility, and we have to stand behind its lighting capabilities.
But do these three panels stand up to scrutiny?
The infrared sensor ensures these beauties light up when you pass by them, and I used a plural because the Eshine panels come in a pack of 3 lamps.
They measure 12-inches in length, probably smaller than most of the others we'll see today on our list.
They're available in two colors; the 3000K option or the 6000K build. We weren't able to put a clear number on the lumens output on this one, but an engineer tested them for us, coming back with an estimate between 2500 and 3500 lumens, for just one panel.
It gets better: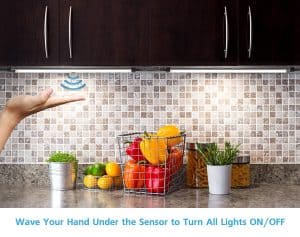 This is pretty good, considering one panel consumes 12 W for this output, which is amazing even in LED standards.
The only thing we can complain about is that the build of these panels does not support dimming (of which you're going to find out about at the end of this piece). And they're pretty small in size, neither of which is a huge discontent.
How did we play with the EShine panels?
The first thing we did, right after taking the lamps out of the packaging, is tweak every feature. Their installation guide is well written and explanatory, so we had an easy time setting it up, and every little feature, including the way you connect them, works.
With that in mind, the people we've interviewed about the product, overwhelmingly reported satisfaction, although one of our interviewees complained about the lack of dimming possibilities.
With that in mind, the experts we talked to came in support of this product, claiming the downsides we identified are correct but are counterbalanced by the amazing benefits of a well-built garage lighting fixture.
Features:
IR sensor,
Pack of 3 12'' panels.
Two colors (3000K and 6000K)
Consumption of 12 W.