If you like the Ernie Ball MVP above but you need something a bit smaller, check out the VP Jr., which gives you the same style of volume control in a more compact package. It doesn't have all the features of the full-sized MVP but the build and tone quality is just as high—and it costs about $50 less.
The VP Jr. comes in two flavors: one with 250k ohms of resistance for passive pickups and one with 25k ohms of resistance for active pickups. Aside from the impedance, the two models are identical. Like the Ernie Ball MVP, they're designed for use with mono instruments like guitars and basses rather than stereo instruments like keyboards.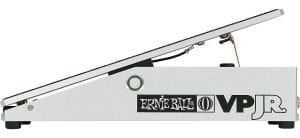 Like the MVP, the VP Jr. has a casing made of aircraft-grade aluminum. Ernie Ball is a company that understands guitarists. They've put a coating on the top that makes it impervious to spills, so you don't have to worry if you're using it in a cramped club. This is a pedal that's built to last, inside and out. This pedal doesn't feel delicate, either, despite its small size. The pedal gives a nice amount of resistance when you step on it, which translates to better control and smoother fades.
The VP Jr. uses a taper switch instead of an adjustment knob to control the volume level. This doesn't give you quite the same smooth taper but it does give you two different swell rates, useful for changing between foreground and background.
There aren't a lot of bells and whistles on the VP Jr., but simplicity can be a very good thing. If you're looking for a compact, road-worthy volume pedal, this one delivers. It gives you a broad and smooth volume sweep without any loss of your tone—the most important quality in any volume pedal.
Specifications:
Dimensions: 4"W X 11"L X 2.5"H
Weight: 2.45 pounds
Input: ¼" mono
Outputs: ¼" main (mono), ¼" tuner
Casing: Aircraft-grade aluminum
Power: 9V battery only