The Most Valuable Pedal from Ernie Ball is aptly named. Its versatility and smooth operation make it one of the top choices for music pros of all stripes.
Let's start with the basics. This pedal is so sturdy it's practically impossible to break—and while that's not a challenge, you'd probably be fine even if you took it that way. The casing on this bad boy is aircraft-grade aluminum, an even sturdier material than what's used in many metal pedals.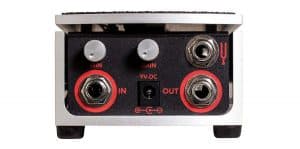 The response on this pedal is also fantastic. It has a smooth operation that allows for a lot of nuance with your tone shaping. The minimum volume can be adjusted using the knob on the back, giving you even more control and letting you make more precise adjustments. The settings start at 50% so you have a wide adjustment range to work with.
The MVP also had a feature we didn't see on other volume pedals too often: a gain control.
It can boost your sound as much as 20 decibels, pushing it into overdrive. If you're in need of more power but don't want to upgrade your amp, this is a viable alternative.
This is a mono pedal, so it's not the best option for keyboardists or synth players. It's perfect for guitarists, however, especially since there's absolutely zero frequency loss, even at extreme high range and volume levels. It will work with equipment of any impedance, so you can use it no matter what kind of pickups you've got on your instrument.
There's even a dedicated tuner output so you can tune up mid-gig without the whole venue listening in.
Specifications:
Dimensions: 3.5"W X 4.8"H X 11.2"D
Weight: 2.66 pounds
Input: ¼" mono
Outputs: ¼" main (mono), ¼" tuner
Boost: +20dB
Casing: Aircraft-grade aluminum
Power: DC 9V/100mA power supply or 9V battery