Tower-style air purifiers are great in a lot of ways. They're convenient, unobtrusive, and effective at treating the air around them. Their range, though, does tend to be more limited—they'll need to be moved around a few times to treat all the air even in medium-sized rooms.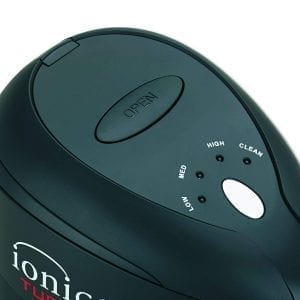 That's not the case with Environ Ionic Pro Turbo Ionic Air Purifier, whose super-powered fan can quickly clean the air in rooms as big as 500 feet.
This would be the perfect air purifier for an office building because it's efficient, relatively quiet, and doesn't require much maintenance. These same qualities make it a great choice for a living room, game room, kitchen, home gym, or other more open spaces in the home.
It's very effective at removing smoke odors quickly, and it can remove about 99% of the contaminants from your air. Like most air purifiers in the price range it captures microscopic particles as small as .3 microns, which will remove most (if not all) of the irritants in smoke.
The Environ Ionic Pro promises absolutely silent operation, and it is exceptionally quiet—as long as it's clean. The more dust that accumulates on the blade, the noisier it will be.
While this does make it easy to tell when it's time to clean your machine, it can also be kind of annoying if you don't have time to get to it right that moment.
On that note...
While the collection blade is easy to access and remove, the process of cleaning it is more involved than simply swapping out the filters on other models.
Considering how bulky and expensive other filters can be, though, it's a worthwhile trade in our book, especially if you're looking for an air purifier that's a bit more eco-friendly.
Features:
Coverage area: 500 square feet
Filters: Reusable collection blade
Dimensions: 7.5" X 28.5" X 9.5"
Weight: 8 pounds