You won't have a bug around you when you invest in the Eliminator Electronic Fly and Bug Zapper. This device offers 5000 sq.ft. of insect elimination and can be used both indoors and out.
On that note: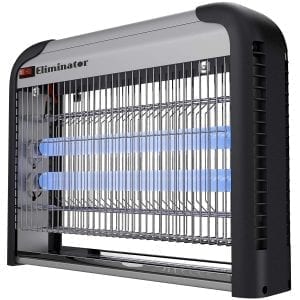 It can't be unattended or allowed to get wet. Mounting should be on a wall to keep out of the reach of pets and children, although it can be left freestanding.
It doesn't use any chemicals for bug collection and doesn't produce a foul odor when in use. Insects are attracted through two 10 W UV bulbs and electrocuted on the charged metal grill.
It's also worth noting:
It does have a loud zapping noise that may startle you but is effective in its design to kill bugs on contact.
The Eliminator Electronic Fly and Bug Zapper is engineered to be maintenance-free and comes with a removable collection tray. It allows for operational day and night and has non-clogging grid design to ensure efficiency in bug removal inside and outside your home.
Features
High voltage electrically charged metal grid
Wall mount or free-standing design
Removable collection tray
Non-clogging grid
20W UV bulbs
5000 sq.ft. coverage