If you have an aspiring drummer on your hands—but aren't quite ready to invest in a full kit for them—this roll-up electronic drum pad makes an excellent gift. It can also be useful for older drummers as a more sophisticated practice pad, letting players work on their around the kit movement at home as well as their striking technique.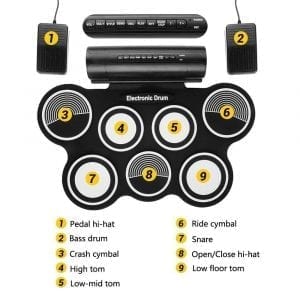 There are seven different drum areas on this pad, simulating the basic drums and cymbals that are in a standard kit. They don't just produce one sound option for each pad, either. There are an array of different sound simulations, including some that sound very close to an analog drum kit. The pad can be plugged into a speaker for out-loud play, or plugged directly into a pair of headphones for completely silent practice.
The MIDI jack makes this a versatile pad, as well. It can connect to a computer for use with MIDI recording and mixing programs, and can even be hooked into a game system if drummers want to use it with Rock Band or other music-themed games. It's a great tool for DJs, composers, and recording techs, too, since it lets players plug it into any DAW and record straight from the pad.
Along with the pad itself, two foot pedals are also included, which can be used to simulate the kick drum or hi-hat pedal. It can be powered by any micro-USB adapter, though it doesn't come with one—one of the only shortfallings we could find with this particular gift option.
If the player were looking for an electronic drum set that's equipped for on-stage, professional performance, this isn't necessarily it. If what they want is something that's fun to play around with at family functions, or just something to use for at home practice, this roll-up drum pad is a convenient and affordable way to get it.