The "excellent" and "high quality" eFluky 16-inch Electric Skillet heats up quickly and evenly to prepare everyday meals and dinner party dishes. It's versatile (able to fry, stew, roast, grill, and bake) and can cook diverse recipes like pancakes, scrambled eggs, stir-fried vegetables, curry recipes, stew, soup, Korean barbecue, hot pot, deep-fried chicken, chicken wing fish, steak, and more.
What's more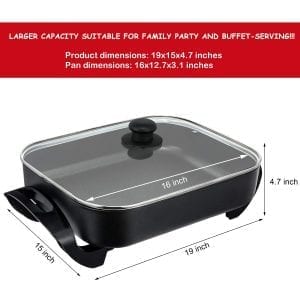 Users really like it's "easy-to-control" temperature, which ranges from 200°F to 460°F. It's warm "simmer" setting is perfect for keeping food hot until mealtime, for a buffet line, and throughout a party.
Party time!
Described as "spacious" and deep, the eFluky 16-inch Electric Skillet can fit enough of one dish to feed at least three to four adults. We read reports of it being used as part of preparations for meals for large families, small company gatherings, and other social events. As an added bonus, its "deep bowl"-like shape with three-inch-high side walls helps reduce splatter.
What more can you ask?
With its nonstick surface, the eFluky 16-inch Electric Skillet requires little oil for healthy cooking. Flipping the food is as easy as cleaning the skillet. Some users simply wipe the nonstick skillet with a soft damp cloth, paper towel, or sponge. After detaching the thermostat control and base, others hand wash to the skillet or put it (and the lid) into the dishwasher. Overall, the skillet is quick and easy to setup, use, and clean.
Features
Dimensions: 16" x 12.7" x 3.1" (overall); 15" x 12" x 3'' (cooking space)
Includes glass lid and detachable thermostat control
Power: 120V, 1400W
Material: Aluminum tension
Temperature range: 200ºF to 460ºF
Dishwasher safe with thermostat control/cord removed
30-day money-back guarantee
Three-year warranty
Made in China