In our opinion, this EcoSmart model is another excellent option for smaller homes and families.
This efficient little water heater works best in climates with incoming water temperatures of 67F or more. Despite being relatively more affordable than other options, this model offers pretty decent specs, features, and performance.
Lots of customers and experts are satisfied with their purchase of this water heater. But let's go into some more detail so you can find out if it's perfect for you or not: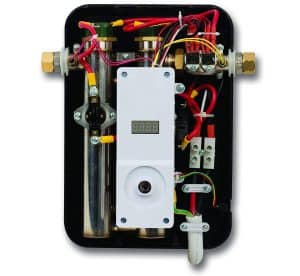 The EcoSmart Eco 11 model is an electric-powered tankless water heater best known for its energy efficiency. In fact, with this model's energy efficiency of around 99.8%, EcoSmart's manufacturers claim this water heater can help you save up to 60% on your energy bills!
This small-sized unit can provide up to 2 GPM of hot water, which is good enough to take one steaming hot shower and run a bathroom or kitchen sink faucet simultaneously. It is also incredibly lightweight and can be used as a point-of-use (POU) heater in colder climates.
The Eco 11 features a self-modulating technology that automatically adjusts water temperatures to provide you with consistent hot water. It only uses power to heat the water you are actually using. This saves big time on your electricity bills and prevents water waste.
When it comes to installing this unit, you'll be amazed at how easy it is. A 60-amp power supply coming from a double pole breaker, and a #6 copper gauge wire is all you need to set this up.
This eco-friendly water heater also comes with a digital temperature control, which supports up to 1-degree increments. You can adjust the water temperature just the way you like to up to 105F.
Favorite perk:
The thing we liked best about this water heater is, it comes with a lifetime warranty. That's right. You will never have to worry about wasting your money on this because any issue you face can be easily addressed without costing you a penny.
All in all, this efficient and 'smart' unit is relatively affordable and designed for use in smaller homes. One downside is it's not really useful as a whole house unit in climates with incoming water temperature less than 67F. You might have to use it as a POU unit on cold days, and that's not very practical.
Some customers we talked to complained about fluctuating water temperature in this heater. This means you can go from warm to scalding hot or ice cold for no reason in the middle of your showers, which can be pretty dangerous.
Ending on a positive note…
This is an electric-powered heater. This means you don't have to worry about venting or any of that stuff. Compared to gas-powered water heaters, this will help you save on installation costs, time, and space.
TIP: Consider purchasing this unit if you already have an existing water heating system and need some extra hot water, or if you have less use of hot water where you live.
Features:
Save up to 50% on costs
Advanced self-modulating technology
Stylish design
Digital temperature control with 1-degree increments
Copper/stainless components for efficiency, durability and easy replacement
Compact size