The Eagle EA-3000 is another small compressor that claims to be quieter than the rest with a decibel rating of 46 dBA. We can attest it is quieter than other models, but that's not the only reason we chose this powerful little machine.
This hotdog compressor has a compact 1-gallon tank with a maximum PSI rating of 125. It's oil-free but sports a double piston pump which can crank out 2 CFM at 100 PSI or 2.6 CFM at 40 PSI. That's solid, even if the motor has a rating of 1 HP at its peak. It's also not the only thing solid about the EA-3000 as it's built like a tiny tank.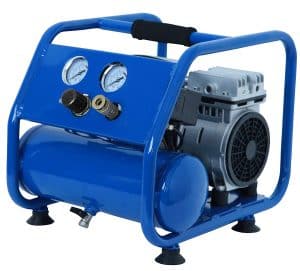 Durability won't be an issue…
Worried about plastic panels that look like they'll snap in a strong wind? Well, this compressor has a steel panel surrounding the gauges which ties into the roll cage design. The cage itself covers the motor, pump, and tank. The latter has a ball valve that's easy to use and reach – something that can be difficult on other machines.
In the extras department, this one is a bit sparse as there are no real standout features to note. It has the standard dual gauge setup along with a regulator and one quick coupler. While the silent part is still up for debate, at 39 pounds, you can rest assured the Eagle EA-3000 is very durable. There's a similar, but cheaper model of this one available as well in the EA-2000 to go along with a double-stack 4-gallon variant.
Features
Low amp draw
Double piston pump
125 PSI max
Dual gauges