No, you're not doing a double take with the Dyson TP04.
While it resembles the AM07, the differences reside in the base. That's where Dyson put their high-tech components along with a HEPA and activated carbon filters.
Whereas the AM07 only blows air, this tower fan also cleans it.
Pretty cool, right?
That's far from the only difference between the two fans, however.
This one is the most high-tech machine on our list as well. The build quality is what you'd expect from Dyson as the AM04 is solid with a 6-foot cord and an 8.8-inch base. It's 8.1-inches in diameter with a total height of 41.5-inches and a weight of 10.98 pounds.
It's All About That Base…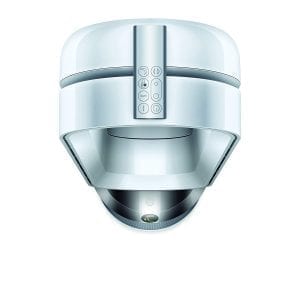 The base of the Dyson AM04 is where the filters are which make them very easy to access and clean.
It's a sealed system that uses a glass HEPA filter and an activated charcoal filter to give you double the filtration.
The HEPA filter is rated to snag 99.9% of allergens along with ultrafine particulates and VOCs.
Unfortunately, those filters may be a little hard to track down although you find the part numbers for anything you need in their user guide.
On the plus side, you don't need to change them very often. The company recommends switching them out every 12-months if you use it for 12 hours a day or less.
Want to stay in the loop on the air quality?
The Dyson Link app can handle that and so much more.
While you'll get a cool curved remote, you can use the app to control various features like speed and oscillation.
When it comes to sheer power, this fan's rated for 700 gallons per second which shakes out to around 600 CFM.
The CADR or clean air delivery rate is listed at 90.
It won't blow the covers off your bed, but it has more than enough volume for most folks with regular sized rooms.
Unlike its brethren, it has a backward airflow mode which purifies the air but doesn't blow it towards you.
The Pure Cool Tower Fan has oscillation from 45 to 350-degrees and ten speed settings.
We love the machine's "Night-time" mode which ensures you won't be awoken by lights or sound.
We also dig the tiny display on the front of the unit which lets you check the air quality levels without accessing the mobile app.
Connectivity Is Key
Any machine or gadget that lets you use an app generally has Bluetooth. You'll get that with the TP04, but you'll also get Wi-Fi. That opens things up considerably by allowing you to control the fan away from home. It's compatible with Alexa as well although you won't be able to use her skills to order those filters, unfortunately.
The ability to make sure the air blowing your way is clean, sets the Dyson TP04 Pure Cool apart.
And it's hard to argue with all the flagship features built into this one.
It's the Cadillac of the fan world, but not without a few minor drawbacks.
That said, if you want a tower fan that purifies and is smarter than the rest, this one should be at the top of your list.
Features
HEPA filtration
Backward flow
350-degree oscillation
Bluetooth & Wi-Fi
10 speeds