No "best vacuum" list would be complete without a proper shout-out to our friends at Dyson. It is unmistakable that Dyson makers know what they are doing when they build a vacuum and they are definitely built to last. So while the price tag on the vacuum can cause sticker shock for many, you know that what you are purchasing is good quality and will last your household a very long time.
The Dyson Ball Multi Floor 2 Upright Vacuum has the ability to seamlessly and intelligently transition through all the floor types in your home. It has an automatic adjuster that senses the level of the flooring and changes the head height in order to provide the best clean available for that floor type.
So not only do you have a vacuum great for your tile floor, it is also great for your hardwoods, vinyl, and carpet.
The best part?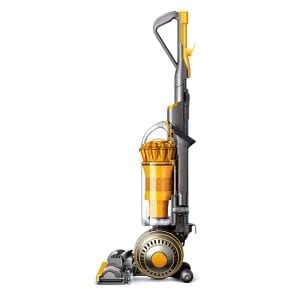 You don't have to lift a finger to get that customized clean.
Dyson is known for their "never lose suction" system that delivers a powerful clean every time it is used. They also have top of the line filtration to ensure that it not only traps but also contains, even the finest of dirt and dust. The Dyson comes with a special certification making it Asthma and Allergy friendly due to the high quality of filtration and containment. You can empty the dust cup without exposing yourself to all the dust by simply pushing a button.
Maneuverability is no issue with this vacuum thank to the Dyson classic "ball" design. It allows you to easily maneuver in tight spaces and around furniture with ease. Even though this vacuum is among the heaviest we have considered on our list. At 15lbs it isn't going to be easy to lift going up or down stairs but you won't feel the weight during use due to the head design.
What I really love about this unit:
I love that this has a detachable hose that offers you up to 40 additional feet of extension for reaching even the highest of items and hardest to reach places.
All in all this Dyson is the most expensive option, but it does deliver features you don't see in the other options on our list. It is definitely a contender on our list for the best vacuum for your tile floors!