While Dyson didn't quite make our list of the best vacuums for stairs, their fans left a lasting impression with our experts and consumers alike.
The Air Multiplier AM07 has several advantages over other models and is an easy choice as our top option for the best fan.
If you've never seen one of Dyson's fans, you're in for a surprise.
They're a "bladeless" devices with a unique design, making them safe around children and pets. It also utilizes the company's Air Multiplier tech, something we'll let Dyson explain for themselves…
Now that you know how it works, you can see why it's such a popular option.
It can produce uninterrupted airflow and is extremely quiet to boot.
In fact, you won't believe this:
The newer models are said to be 60% quieter than previous generations while consuming 10% less power.
Now that is something we can get behind.
The style of this tower fan certainly sets it apart, but it's a functional design as well. The open face is easy to clean considering there are no blades to wipe down or grills to remove. We also like the "height to stand" ratio on this one as the stand doesn't go halfway up the tower.
Overall, the fan measures 4.4" x 7.5" x 39.6" with a weight of only 6.3 pounds.
It has a 6.6-foot power cord, and the base is skinny at 5.9-inches.
We like how it leaves a small footprint behind.
You'll definitely notice it as the fan tends to stand out, but it will not take up much room wherever it resides.
While the Dyson Cool AM07 is light and stylish, you'll be surprised by the power. It's not going to blow you across a room but can deliver around 580 CFM on its highest setting.
Why is that impressive?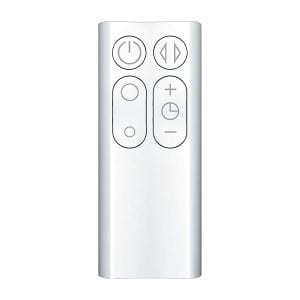 The bladeless design and size. It's efficient, and ideal for small to medium-sized rooms.
Most consumers found the Dyson AM07 easy to use except for the onboard controls.
While they aren't difficult, they tend to blend into the housing and are limited so you'll want to have the remote handy.
Thankfully, the curved remote gives you access to everything and is magnetized so you can stick it to the machine when not in use.
As for the features, this tower fan has ten airflow or speed settings that range from wild to mild. You can direct air through oscillation and set a sleep timer when it's time to hit the hay.
Unlike some models, the AM07 timer ranges from 15 minutes to 9 hours so you can keep rooms cool for entire shifts.
You don't have to worry about build quality with Dyson, and while their fans aren't cheap, you get what you pay for.
In this case, that's a sleek fan that's quiet, safe, and efficient.
The fan comes with a 2-year warranty from the company, the aforementioned remote and a user guide to get you started.
Features
Bladeless design
Air multiplier technology
Magnetized remote
One-touch oscillation