With a wide temperature range and a full set of flagship features, there's a lot to like about the Duxtop Sensor Touch 8310ST. It's the sleekest cooktop to make the cut and has a touch-based control scheme that gives it a leg up on the competition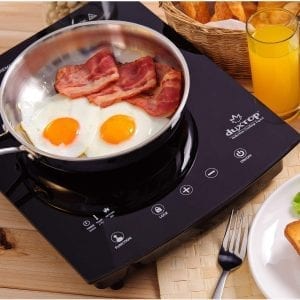 Looking for a cooker with a wide range? The Sensor Touch fits the bill with ten settings from 140 to 460 degrees. The system is automatically set at 320 degrees when you fire it up, and we're pleased to say dialing this one up or down is about as simple as it gets. If you can press a button, you'll have no problems using this induction cooker.
Where other models have a sloped control panel, dials or raised nubs to press, the controls are built into the surface the 8310ST. Want to turn up the heat or dial it down? Just touch the appropriate buttons, and you're good to go.  There is a function button which allows you to switch between modes, but aside from that, you only have a power and lock button to contend with.
The safety features are present if somewhat hidden just like the small readout on the surface of this cooker. You can activate the child safety function by holding the lock key down for 3 seconds, and pan detection will kick in and shut things down once you've removed a pot unless you replace it within 60 seconds. Whether there's a power surge or another issue, the diagnostic system will keep you in the loop.
One more thing…
The last feature we want to mention the timer. It's not the longest timer we've seen at 170 minutes although it's towards the top. What makes it stand out is the fact you can set it in 1-minute increments whereas other models will lock you in at 15 or even 30-minute blocks. It's not a feature you should overlook, especially if you just want to cook an egg or warm something up.
While the style of this cooker is what initially caught our eye, we're fans of the features and love the fact it comes with a 6-foot cord. This cooktop comes with a user manual and 1-year warranty from the company, but you will need to supply the cookware and electricity yourself. While there is a variant available with a 2-year warranty in the 8100MC, we do not recommend that model due to an abundance of customer complaints.
Features
Child lock
140 to 460 degrees
Diagnostic error system
6-foot cord
1-year warranty