Large rooms are easy to heat with this fireplace stove due to the infrared quartz technology it uses. It has the power to add warmth and comfort to rooms of up to 1,000 square feet and will do so without drying the air or forcing it through a noisy fan.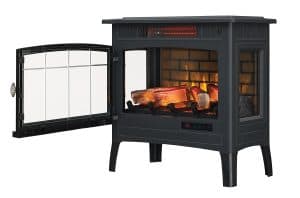 To create a cozy and relaxing ambiance, it uses a patent-pending technology that uses a layered, 3D flame effect to realistically mimic fire. Its five brightness settings make it easy to adjust the flame intensity to any taste and preference.
The Duraflame electric fireplace stove promises convenience and durability through its sturdy metal construction and panoramic side-windows. It stays cool even when the heating function is on, so your kids and/or pets are safe around it.
What's best?
The price is very affordable.
Features:
Dimensions: 13.1 x 24 x 23.4 inches
Weight: 28.6 pounds
Heating capacity: 1,000 square feet/5,200 BTU
3D flame effect
Adjustable thermostat
Flames-only setting available
5 flame brightness settings
Safe for kids, pets, and the environment