Slash knows a little something about quality guitar effects—especially the wah, which has been a part of his trademark sound for decades. The Cry Baby Classic will give you that iconic sound for your own set-up, and since it's been designed by a professional guitarist, it has all the features pros look for in a pedal.
The first thing we noticed about this pedal is the build. Obviously most guitarists shop for pedals with their ears more than their eyes, but there's nothing wrong with a pedal that looks nice, either. The die-cast casing is sturdy enough for the hardest-rocking player and the exterior is decorated with graphics designed by slash. There are practical design details, too, like the LED indicators so you know when the effect is active.
As if that's not enough…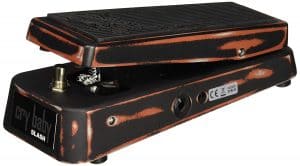 The Cry Baby sounds as good as it looks. The original Cry Baby included a distortion effect, too, but that made it impossible to use both effects at once. With the Cry Baby Classic, Dunlop has focused in on just the wah effect. The custom-wound inducer is the shining star of the interior circuitry. It gives you the option of a wah in three different ranges (baritone, treble, or soprano) so that you can get as dark or bright a tone as you want. This is the only adjustment you get for the effect, so if you like tweaking your tone you might be disappointed, but the effect sounds good enough we didn't miss the extra controls.
With a wide dynamic range and effect sweep, the Cry Baby Classic has the raunchy, bluesy wah Slash is famous for. This is a pedal that feels solid and sounds massive—an awesome choice for the gigging musician.
Features:
Chassis: Die-cast
Input: ¼" stereo (get cables)
Power: 9V battery or DC adapter (not included, get one here)
Controls: Frequency-shifting rocker