The X Mini from Dunlop just might be the smallest volume pedal you'll find anywhere. At just over a pound and only six inches long, its super-compact design means it can fit in any set-up and is incredibly easy to transport and store.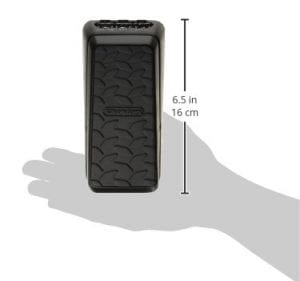 This isn't just a volume pedal, either. It can also function as an expression pedal, with an auxiliary output for plugging in effects. It has an internal pot that you can use to adjust the values, allowing it to work with a wider range of effects. You can also switch the heel and toe positions, a more logical position for some effects. This secondary input can also be used as a tuner output for silent tuning of your instrument.
The pedal action on the X Mini is controlled with a low-friction band drive. It's this mechanism that allows them to keep the pedal so small. It also gives you a smooth and sensitive response, with an even swell throughout the dynamic range. It doesn't have quite as wide of a functional range as some larger pedals, which is also in many respects a factor of the small size; there's simply not enough space for the pedal to move as far. Within the range it does have, though, it instantly reacts to changes in your foot pressure.
Dunlop pedals are known for their solid, smart build. This particular little pedal uses an aluminum chassis that protects the internal components from damage, even from most impacts and drops. The top also has a substantial rubberized tread that holds your foot in place while you're using it. You can adjust the rocker tension, too, if you want it to be more sensitive or offer more resistance.
The small size of the DVP4 does limit the amount of external space available for the knobs or toggles on other volume pedals, which does give this pedal a slightly smaller effective range. If you're looking for the best volume pedal ounce for ounce, though, this compact wonder is a strong candidate.
Specifications:
Dimensions: 6"D X 3.5"W X 3.5"H
Weight: 1.28 pounds
Input: ¼" mono
Outputs: ¼" main (mono), ¼" expression/tuner
Casing: Aluminum