If you're buying the gift for a beginning drummer, a practice pad can be a great choice—and if it's a kid, their parents will probably be as grateful as the player. Most players will already have a basic one-surface practice pad, but you can help them take their technique to the next level with the Drumeo P4.
Most practice pads only use one surface, or at most use a different surface on each side of the pad. This is fine for working on the basics, but it doesn't give players the chance to hone their techniques on different kinds of drums, something that's especially key for drum set players.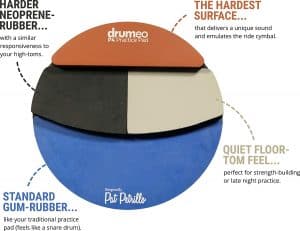 The P4, on the other hand, uses four tiered, color-coded surfaces, ranging from a softer, quieter rubber that simulates a floor tom to a hard, Kevlar-like surface that feels more like a ride cymbal. These different surfaces don't only act like different drums, they can also be used to hone specific areas of a player's technique. The softer floor tom surface, for example, is great for building hand and wrist strength, while the ride cymbal pad can help work on speed. This can give a new dimension to even practicing basic rudiments, letting players get more out of their practice sessions.
The only downside of this pad that we can see is that it's not especially portable. The multiple surface heights make it a bit bulkier than simpler models—it's not the kind of practice pad a student can toss into their backpack on the way to school. It's an ideal pad for at home practice, though, especially since it has the super-quiet floor tom section.
One last great thing about practice pads: they're built to take hard hits without showing too much wear. You can have the Drumeo P4 shipped straight to the recipient and don't have to worry it'll show up damaged. This is a gift that a drummer can use for years, no matter what changes in their gear or playing style.
Features:
Diameter: 12"
Weight: 3.85 pounds
Snare pad: Gum rubber
Hi-tom pad: Neoprene
Floor tom pad: Soft, quiet rubber
Ride cymbal pad: Kevlar-like hard rubber