This is an awesome kayak that comes with everything you'll need to get out on the water. The Driftsun Voyager is intended for both calm fresh waters and choppy ocean water.
What's to love?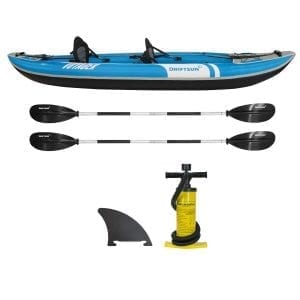 This is a great kayak for someone who needs flexibility. It's able to be used as a one-person or two-person kayak.
It also has a removable fin which allows this kayak to be used in multiple settings. It's convertible between flat and ocean waters.
The sharp nose helps the kayak pierce waves with ease while the oversized inflation tubes keep this kayak remarkably well balanced.
We actually found this kayak was harder to flip than many conventional kayaks.
The seats are also super comfortable and have a high back--an underrated feature in kayaks.There's a large amount of foot and back storage.
The carrying capacity is 450 pounds, which means you'll be able to take along about 150 to 200 pounds of equipment with two people. If you are by yourself, equipment capacity won't be an issue.
It comes with everything you need with two exceptions.
This kayak comes with two paddles, an air pump, and a travel bag. This is technically everything you'll need to kayak. The paddles are comfortable and of high quality.
The air pump is manual but dual action, which means you pump air on both the ups and downs.
You and your tandem kayaker should always wear life vests, which are not included.
A few other things you should know.
Set up takes around five minutes.
Fully inflated and assembled, this kayak is 10 feet long and 35 inches wide.
Deflated, it's an easily storable 26 by 16 by 8 inches.
It weighs 27 pounds.
This kayak has a one-year warranty against defects.
Features
Paddles included
Pump included
PVC bottom
Oversized air chambers