It takes a special quality of inflatable to stand up to rough white waters. Until recently, inflatable whitewater vessels where typically rafts manned by 4-12 people.
Nowadays, however, you can take on even class IV rapids with an inflatable kayak.
How is this possible?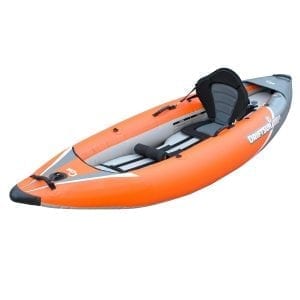 By making them really, really tough. Inflatable whitewater kayaks are much more durable than your typical inflatable.
This particular kayak's air compartments are protected by two separate layers of PVC coated fabrics. One under the kayak, as with most inflatable, and another that makes up the air compartment themselves.
They have to be able to bounce off of rocks--which can be quite sharp--very regularly. You should also know that because of this, inflatables don't handle quite the same as a hard shell kayak.
Traditional kayaks will usually hit and deflect off of any rocks. Whereas an inflatable kayak will have a lot more spring and bounce coming off the rock. It's actually quite fun, although a different experience.
You'll also notice an inflatable whitewater kayak just doesn't have the same level of tracking or control. You'll have to learn to be a little more comfortable with where the river wants to take you.
And with that out of the way…
Let's take a look at some of the things we love about this product.
Despite being super durable, this is just a lightweight as other kayaks on this list, which we were actually surprised to find out.
It sits a light at 22 pounds.
The floor of the kayak is built to provide much better tracking than a typical inflatable. The high-pressure inflation chamber below your feet keeps the bottom rigid. This allows the inflatable to cut through water with much more control.
You also won't have any trouble with flat water control. This kayak has a removable skeg fin that helps it respond better to directional paddling.
This one-seater can carry up to 300 pounds. Which means that most people can carry about 150 pounds of equipment with them.
We loved that this kayak had a designated action camera mount on the front.
There are a couple minor downsides.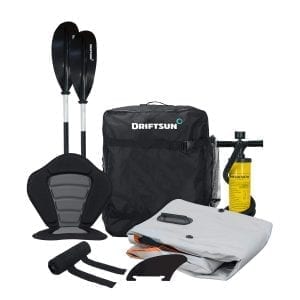 Although it can theoretically hold a lot of weight, this kayak doesn't actually have all that much storage space. There are a lot of tie down hooks and such, however these can throw you off balance a bit.
This kayak can also take a few extra minutes to inflate since the floor needs twice the pressure of most water vessel inflatables.
Some final notes on this one...
You'll save the time you lost on inflation during clean up since this kayak has seven bailing ports which testers were nuts about.
This kayak is 8.5 feet by 36 inches.
It includes a paddle, a deluxe air pump, and repair kit.
The seat is adjustable and cushioned. Driftsun has a one-year limited warranty.
Features
Rapid ready
Action camera mount
Detachable skeg
Rigid bottom
Paddle included
Carrying bag included
Pump included
Seven bailing ports