Our next soccer ball on the list is the DribbleUp Smart Soccer Ball. This ball is the second (and only other) "smart" ball on our list. Like the Adidas brand ball, this DribbleUp ball is designed for use with a smart device and application for training. There are a lot of features to love about this ball; however, it's more expensive than the Adidas alternative.
Design: 
This DribbleUp ball is hand-stitched using a special double-twisted threading process to aid in maintaining the ball's shape. in construction made from PU synthetic leather. The manufacturer boasts the casing is both scuff and water resistant. It also features a Butyl bladder, which it is more resistant to holes and leaking.
While the ball features high-quality materials, the focus with this ball is all the smart features and less about the physical make-up of the ball, which doesn't come in handy when you're researching! What I did find with this ball is that it's match quality and built to last. It's also available in sizes 4 or 5 for multiple ages and training levels.
Durability: 
As mentioned above, this is a well made and highly durable ball. Reviewers consistently comment about the high-quality in regard to the tech aspects of this ball and the durability with extended play.
You can also use this ball inside and outside without worrying about the ball or the tech inside. It doesn't require special conditions or wide-open spaces to work effectively.
Technology and Training: 
The technology portions of this DribbleUp soccer ball are truly cool. This ball is designed to help you perfect your training and keep track of your progress over time. Amazingly, it doesn't need to be charged in order to do this! It actually works with the DribbleUp application. The package comes with a smartphone stand and, once the application is downloaded, the application uses your phone camera to track movements and provide instant feedback. Unfortunately, I couldn't find any information regarding how this will impact your phone's battery life. But I would recommend having a full battery before game play or keeping a charger handy just in case.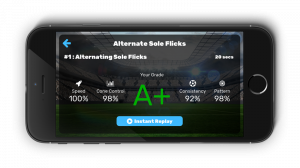 Also included in this app is the Interactive Training Library. This training library provides lots of valuable training tools including virtual cones and live audio feedback. You also have access to multiple virtual trainers for perfecting certain moves and weak points in your game!
You can track your progress using the DribbleUp app. It keeps track of your progress and movements for comparisons over time in your training and provides graded breakdowns of your performance. Much like a real-life coach, this app is definitely designed to help your perfect your game and keep you accountable during your training sessions!