The Dr. Infrared Heater is a portable space heater weighing 23.5 pounds and measuring 13 x 11 x 16 inches. Unlike other heater types that only heat the air in a room, this one is equipped with a dual heating system technology, which utilizes convection, as well as infrared technology.
Based on our experience, this enables the heater to increase and maintain the temperature in a room faster and more evenly. Underwriter Labs (UL) in both the U.S. and Canada certifies this appliance for the highest safety standard.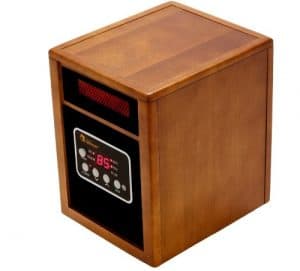 Do you have pets or children? Good news!
As advertised, it does not get hot to the touch even when set on high for hours, therefore, you do not need to worry if you have kids or pets around.
We found the Dr.Infrared Portable Heater to work exceptionally well. Especially when it comes to raising the temperature of a small room quickly. The heater is quiet, but you can notice a humming sound, which isn't too distracting.
In addition, we found this heater to dry the air quickly even though it says differently in the advertisement. With a low setting of 1000 watts, this heater uses more power compared to most appliances available within the same range.
Features
UL certified tip-over protection and auto-shut off switch
Dual infrared and convection heating systems
12-hour automatic shut-off timer
Remote control
Electronic thermostat with a range of between 50 to 86 degrees.
Factory installed caster wheels