Donner is a company better known for their guitar electronics and accessories than they are for instruments. Despite this lack of pedigree, their DUC line of entry-level ukuleles are well-constructed and easy to play, making them an easy option for inclusion on this list. In addition to the concert model linked to here, they also have a soprano and a tenor ukulele that bring the same combination of great sound and impressive value.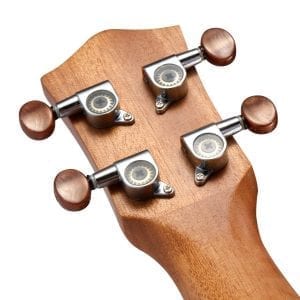 The design of the DUC ukulele is simple but effective. The body is made of traditional mahogany, but Donner puts in a bit more effort with the selection and tooling of their tonewoods than many companies do with their entry-level models. The wood is naturally air dried for three years before being worked into the instruments, giving them the consistent, sweet tone a ukulele should have.
The effects of this craftsmanship extend beyond the sound. The individual components of the instrument are carefully fitted to be both durable and playable. The neck width and string action are designed for maximum player comfort. Even the bridge has been subtly re-designed to make it easier for a beginner to re-string.
Considering Donner is better known for their accessories than their instruments, you'd expect the accessory package that comes with their ukuleles to be one of the best, but if anything the opposite is true. You'll find four things in the box with the instrument: a gig bag, a strap, a spare set of strings, and a digital tuner. The bag and strap are functional, if not exceptional, but the clip-on tuner is a bit cheap.
Still, if we've reached the point of criticizing the included tuner, it means the rest of it doesn't give you much to complain about. It holds its own in terms of sound when played side-by-side against ukuleles in the $100-$200 range, and will serve you well even after you've moved past the "beginner" stage.
Specs at a glance:
Weight: 3.2 pounds
Body/neck: Mahogany laminate
Fingerboard: Rosewood
Bridge: Rosewood
Hardware: Chrome-plated guitar-style tuners
Included in the box: Gig bag, clip-on tuner, strap, spare strings