A lot of classic wah pedals are on the hefty side, both in terms of dimensions and weight. The Vowel from Donner is not only more compact, but you also get a volume pedal right there in the same stompbox, saving you loads of room on your pedal rack.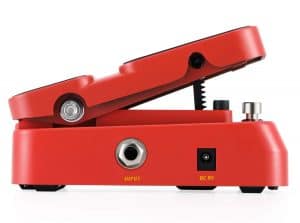 Of course, even if you want a small pedal you still need it to have a big sound. The output on this little guy is still quite powerful. The wah effect has a wide sweep with rich harmonics. There aren't many options for shaping the tone, so what you hear is pretty much what you get, but if you're looking for a classic rock wah it's spot on.
The Vowel also functions beautifully as a volume pedal. That's not really the focus of this article, of course, but it's worth noting since many players will want to have that option somewhere on their pedal rack. It's easy to toggle between the modes—a bit too easy sometimes, if we're being honest, and that's the most consistent complaint about this pedal: it is possible to toggle modes without meaning to if you're not careful.
By the way…
We love the feel of the Donner Vowel. The pedal operation is flawless in terms of its response to the pressure of your foot. It does use a plastic casing, but it still feels durable, and that casing is part of what makes it as lightweight as it is. If you're known for stomping your pedals to death, you might want to go with a heftier pedal. If you're looking for something on the smaller side, though, this one fits the bill.
Features:
Power: 9V DC adapter (not included, get one here)
Modes: Volume and wah
Hook-ups: ¼" mono input, ¼" stereo output (get cables)