Host a group of kids (or a few adults) with the Discovery World Bunk Bed. A common theme we found throughout reviews was grandparents and families finding this model particularly useful. With a twin-size bed perched atop a full-size bed (plus a twin-size trundle bed), this bunk-bed unit can accommodate a gaggle of grandkids, a slumber party, or a small family staying in the same room.
But wait, there's more…
In addition to being very practical, the Discovery World Bunk Bed is described by users as sturdy, stable, and strong. People praise its beautiful, durable, and solid wood construction. The Mission style and A-frame design support its solid look and feel.
And that's not all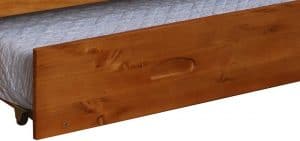 For the most part, users found assembly to be easy and convenient. Most people will be able to set this up in an hour, but it can take up to three hours. You may be able to set it up alone, but two people would make the job easier.
For instructions on assembling the Discovery World Bunk Bed, see this manual.
Final tip
Since the upper and lower berths can already fit at least a few people, you might want to leave the trundle mattress-free, if possible. This way, you can use the trundle bed for storage.
The Discovery World Bunk Bed comes with a one-year warranty.
Features
Dimensions: 78" x 57" x 66"
Weight: 188 pounds
Twin-size upper level over full-size lower level over twin-size trundle
Mission style
A-frame design