The original JamMan looper made a splash when it came out in 2005. With the JamMan Solo XT, they take this well-loved pedal and make it even better, with a vastly improved memory and loads of added features. The result is arguably the best looper pedal on the market for players who need a lot of recording time.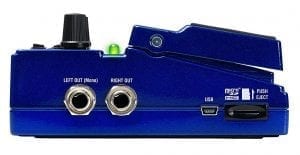 Let's start with our favorite feature of this pedal: the fact that it lets you organize your loops. The pedal has 200 memory slots that you can cue up and play at the push of a button. It comes with software you can use to sort and store your loops, making it even easier to find the ones you want at show time. Just hook the pedal up to your computer using the USB port—the software's easy to learn and use, and an incredibly helpful addition to the classic loop effect.
But that's just part of the story…
Out of the box, the JamMan Solo XT has 35 minutes of recording time. If you need more, there's a microSD slot. Not only does this give you up to 32 total hours of recording time, you can also double the number of memory slots, enough for even the most complex sets and songs.
If you're more of an in the moment looper, the JamMan has features for that, too. It has auto-record functions and an adjustable BPM setting, along with an on-board metronome to help you keep your loops in time. The interface is a bit more complex than a lot of the options on this list, but after a bit of fiddling you'll find it's pretty intuitive. It you want a pedal that can do it all, the JamMan Solo XT is a good pick.
Features:
Dimensions: 2.1" X 5" X 2.8"
Recording time: 35 minutes
Controls: Loop level, Rhythm level, tempo, setup, store
Power: Adapter (included)