The DWX725 is a compact sawhorse that requires very little storage space.
Here's why we love it:
The unit is made up of lightweight aluminum and weighs in at around 15 pounds only, making it easy to carry from one place to another. We recommend this one for DIY enthusiasts too, especially because of its portability.
The unit has a capacity to support up to 1000 pounds, which sets it up nicely to be a competitive sawhorse in the market.
We found the product to be relatively sturdy, and a lot of customers praised how the unit's legs don't give way when too much weight is put on it. The legs fold easily to allow the sawhorse to be stored in tiny spaces. On the sides of the unit, you will also find a leg lock lever that you can simply twist to set up the sawhorse.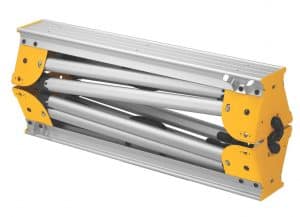 Now, there are several drawbacks of this unit to keep in mind…
First of all, it is a bit expensive compared to other sawhorses in the market. Secondly, this unit does not come with brackets. You can purchase DEWALT brackets separately. Our research also shows that you can't adjust this unit's legs for uneven surfaces, which makes it a bit difficult to use anywhere you like.
Note: You can also check out DEWALT's miter saw stand.
Features:
Supports weight of up to 1000 lbs.
Compact design
Leg lock feature to keep the unit in place
Lightweight aluminum construction
Product dimensions: 11 x 36 x 32 inches