DeWalt is one of the worldwide leaders in power tools, and over the years they've expanded their lineup to some interesting products like the FLEXVOLT 60V Chainsaw.
While they don't have any cordless compressors (yet), the DeWalt DWFP55126 is well worth a look.
The DeWalt DWFP55126 is a pancake compressor with a large 6-gallon air tank. The size makes it a great option for the shop or garage, although it's portable enough to toss in the back of the truck at just 30 pounds.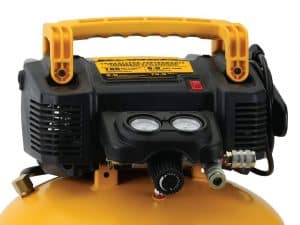 In fact, it has several handy features that make it a joy to use from the cord wrap and rubber feet to the handle up top.
As the company generally makes quality tools, you can expect the same attention to detail with their compressor lineup.
This one is well-built, even if the plastic housing does look a bit cheap. (Which it does, a little.)
It will keep key components covered, however, and is relatively thick. It's solid, but there's not much else we can add in regards to the build quality as pancake compressors are simple machines.
Unfortunately, there's one drawback.
Despite the fact this particular model is rated at a maximum of 165 PSI, there is a slight hindrance depending on your needs.
The compressor can produce 2.6 SCFM at 90 PSI, but will take around a minute and a half to hit that level. The maximum pressure will take 3-5 minutes as shown in the video below.
That's not bad by any means, but not what we would consider speedy as the DWFP55126 only has a 0.9 HP motor.
You'll want something a little more powerful for full-time use, although it's a great compressor for brad nailers like the DWFP12231 and other low-powered air tools.
We hesitate to call this one workhorse, but it runs and is one of the quieter oil-free models at 75.5 dBA.
It also has dual couplers with a high flow regulator.
You won't have to deal with much maintenance, and we think you'll appreciate how quickly it fires up in colder weather.
Homeowners in the market for a light-duty compressor will definitely want to keep the DeWalt DWFP55126 on their radar.
It's ready to roll straight out of the box once you attach a hose (not included). It has a 1-year warranty with free service to go along with a 90-day money back guarantee.
Features
165 PSI (max)
6-gallon tank
76.6 dBA
Cord wrap