The DEWALT DW089LG is a quality laser level used mainly by professionals for all relevant tasks during construction. This sturdy unit is meant to last long and has a lot of uses in the commercial space.
Let's dig into the details: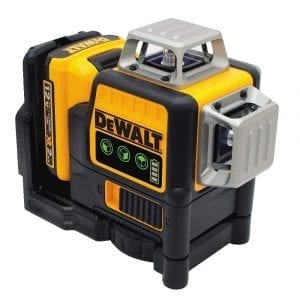 To start off, the DW089LG comes with green beam laser technology, which is said to be four times brighter than a red laser and increases the laser's visibility to the naked eye.
The unit features three top-of-the-line 360-degree line lasers that effectively decrease the need for another laser level to map the entire room. All you have to is to set up the unit once and eliminate the need to come back and readjust it again and again.
This unit gives out excellent results too! It has an accuracy of +/- 0.125, and since it is a part of the 12V lithium-ion rechargeable power tool battery platform, it lasts much longer than ordinary battery powered units.
The DW089LG features an integrated magnetic bracket that swiftly attaches to any metal surface. Since the three 360 degree line lasers map the entire room, there's no need for a tripod. However, if you feel that tripods work best for you, you can always buy an external DEWALT tripod with the unit.
The DW089LG comes with a battery charger, an extended ceiling bracket, and very cool laser enhancement glasses. The unit has an over-molded housing and is IP65-certified, which means it's resistant to water and shock. It has also passed a 2m drop test so if any unfortunate circumstances occur at the workplace, you're covered.
But, it gets mixed reviews.
The DW089LG is a premium quality product for professionals and has received many positive reviews for providing some really cool features with the product. However, many customers have complained that the laser does not self-level, and gives out weak results.
Features:
Three 360 degree line lasers to aid in full room layout
Green beam laser technology which is four times brighter than red
Integrated magnetic bracket allows for flush attachment to metal track and steel
Over-molded housing and IP65 water/debris resistance
Part of the 12V lithium-ion rechargeable power tool battery platform
Accuracy: +/- 0.125