The DW089K is a self-leveling unit built to help you get your job done efficiently and effectively. The product is very easy to use for home improvement enthusiasts and is also ideal for professional construction workers with its wide commercial usage such as the installation of cabinets, floors, drop ceilings, setting up doors, mapping wall layout and installing windows.
The product has a three-beam line laser that works both vertically and horizontally. It features a 2x brighter diode that increases visibility in bright-light conditions and includes individual buttons on the side control panel that operate all three beams.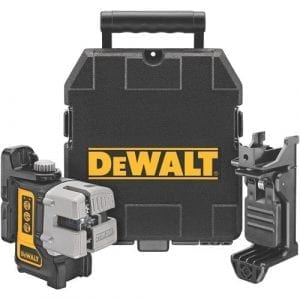 But that's not all…
The DW089K features a second plumb line that forms a 90-degree intersecting line on the floor and ceiling, which is perfect for floor and wall layouts. It saves time considerably and enhances your productivity.
The unit comes with a built-in magnetic pivot bracket that mounts easily on any type of metal surface and allows the laser level to stay in place. The unit self-levels itself to +/- 4 degrees and gives results with an accuracy of +/- 1/8 inch at 30 feet for level applications.
This product also comes with 4 AA batteries and a handy kit box to store and protect it for ease of transportation. You will also find a standard User Manual to guide you on how to use the unit.
How well received is this product, you ask?
The product is loaded with tons of feature and it's no surprise that it has received so many positive comments. It has a lot of commercial uses and helps you get your job done without any hassle. Some customers have complained regarding missing holes in the ceiling mount that messes up the calibration of the unit. Good thing, however, is that DEWALT gives a 3-year warranty for its product so you can easily get your unit fixed/replaced.
Features:
3 Beam Line Laser to aid in 90-Degree layout
2x brighter diode to increase visibility in bright conditions
Built-in magnetic pivot bracket mounts easily on metal surfaces
Accurate to +/- 1/8-Inch at 30-Feet for level applications
1-button operation and control panel for ease of use