The DW088K is perfect for both professionals and beginners. It is packed with some awesome features that are extremely helpful for day-to-day activities.
The DEWALT DW088K is a self-Leveling Cross Line Laser that projects super bright laser at vertical and horizontal lines at a great range useful for leveling tiles, setting up TV, cabinets or other commercial uses, such as mapping wall layout.
Here is why we love it…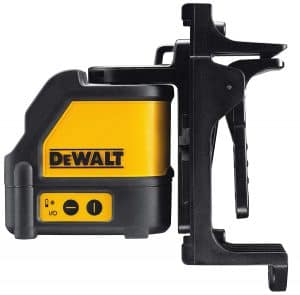 The DW008K is accurate to ±1/8-inch at 30 feet, and its full-time pulse mode allows for use with a detector that regularly gives out a bright laser with higher visibility. The laser works perfectly for up to 165 feet.
The product is IP54-rated, which means it's highly resistant to water/debris and comes with a classy, durable design with an over-molded housing so you don't have to worry about your product getting damaged anytime soon.
This product is packed with a built-in magnetic pivoting base and 1/4-inch thread that makes it super easy to mount on metal surfaces. It also features a Class 2 laser with an output power of less than or equal to 1.3mW @ 630-680 nanometer.
The DEWALT DW088K comes with 3 AA Batteries and a separate ceiling mount for the product. The product is a bit large and heavy to carry with the dimensions 9.7 x 9.2 x 4.4 inches but it comes with a kit box that can be pretty handy to store in the back of your car or an SUV. DEWALT also gives its customers a 3-year warranty.
What do the customers say?
The product has received a lot of praise for its quality output and how easy it is to use for professionals and beginners alike. However, many customers have also shown frustration over how difficult it is to carry the product from one place to another, and the heavy packaging makes it even more frustrating for some. Overall, however, the product has received a lot of love from the customers and remains the favorite of many!