The DW0825LG is a relatively new DEWALT model. Adding to the long list of DEWALT's premium products, this model aims to solve nearly all problems faced by laser level customers. It is a great tool for carpenters, remodelers, electricians and plumbers alike.
The DW0825LG feature a 5 spot + cross-line laser that project lasers at both vertical and horizontal levels. It also has up, down, forward, & side-to-side plumb dots for efficient results.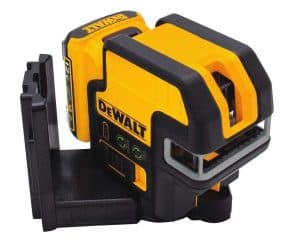 This powerful unit weighs in at 6.5 pounds and emits bright green laser. The product is accurate to +/- 1/8 inch at 30 feet at a range of 100 ft. (spot), and 50 ft. (lines). Buying an additional DEWALT detector can let you increase the laser's range to up to 150 ft. for spot and 165 ft. for line.
It comes with 1/4" and 5/8" mounting threads, and a locking pendulum to increase the product's safety during transportation. It also has a 12V Lithium-ion rechargeable battery platform, a full-time pulse mode, and an over-molded housing. The product is IP65-certified, which means it is both water- and debris-resistant.
What's in the box?
By buying the DEWALT DW0825LG laser, you get an additional TSTAK case and a ceiling bracket. It also comes with really cool glasses that increase the visibility of the laser level. The magnetic plate of the product allows it to stick to any type of metal surfaces. You also get a 12V battery and charger.
However, some issues exist:
The product is very handy to use in almost all types of situations and gets praised a lot by construction professionals. Since DEWALT hasn't created a specific video tutorial for the product, though, customers are hesitant to buy the product. The unit has 5 spot + cross-line laser, the use of which is unclear to a prospective buyer.
Features:
Vertical & horizontal cross, along with up, down, forward, & side to side plumb dots
Accuracy of +/- 1/8" at 30 feet; 150 ft. Range - Spot; 165 ft. Range with Detector - Line
Range of 100ft / 30M (dots), and 50ft / 15M (lines)
1/4" and 5/8" threads, locking pendulum, and battery indicator
Includes 1) 12V Lithium-Ion battery