The DeWalt DHS790AT2 is a sliding compound miter saw with dual bevel capabilities, and a saw that shares plenty of similarities with the DWS780. The one area where they differ is critical however as this saw is cordless and runs off a 120-volt battery.
There was a time when you would get laughed off a construction site with a battery-powered saw. As batteries got bigger and technology progressed, that changed and tools like this saw will now make your coworkers envious. In this case, the power comes from DeWalt's FLEXVOLT system which provides a considerable amount of power.
How long do they last?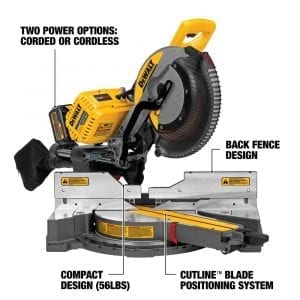 This particular kit comes with not one, but two 120 volt batteries. They don't measure the runtime in minutes or hours but cuts, and you can get up to 289 crosscuts in baseboard around 3 ¼-inches from one battery. That's impressive, and you may never need to pull out the backup. What's more, these batteries have tech inside that automatically adjusts the voltage when you switch tools.
While this battery is 120 volts, you can pop it into another tool from the company whether it's a reciprocating saw or something like the DCS7485B. Your 20V MAX circular saw will work with this power pack and you'll get a lot more runtime than you would normally. If you own other FLEX tools, the backward compatibility of this saw is a major bonus. On the off chance you do run out of juice, you'll be thrilled to know a corded adapter is included as well.
Whether you're plugging into a wall socket or using a battery pack, the saw's brushless motor packs a punch. It will last longer than others and sports the same XPS positioning system that uses a shadow as your cutline. Tall fences can handle crown up to 7.5-inches nested or base as large as 6-3/4" vertically. The miter detent plate can go 60-degrees to the right and 50 to the left with 11 detents. If you want to dig a little deeper into the details, the online manual has you covered.
At 56 pounds, the DeWalt DHS790AT2 is sturdy and an excellent choice for the shop or continuous cutting on the job. We also love the fact it's a 2-in-1 considering you're getting two battery packs, and an adapter for the wall as well. This 12-inch sliding compound miter saw comes with a 3-year warranty, dust bag, wrench, and dual charger along with the aforementioned 120-volt batteries and power adapter.
Features
Brushless motor
Cutline positioning system
x2 FLEXVOLT 120v MAX batteries
Dual charger
Wall adapter