A well made 3-hole fixture, perfect for a lot of interior layouts. It looks good, but does it work the same way? Let's find out.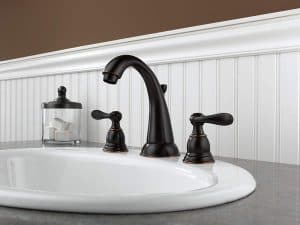 What do we like about the Delta Windmere?
For starters, it comes with a lifetime warranty.
You gotta love that.
Moreover, it has a washerless stem cartridge valve, which puts this faucet at a very efficient crossroad. In fact, the product is certified by EPA regulations for water efficiency, but still has a slightly larger water output compared to most fixtures on the market.
The curvy design on this piece is visually pleasing, and you also get to choose from a variety of finishes. The default option is Oil Rubbed Bronze, with beautiful golden rings in the right place,  but you also have other finishes to choose from.
If you want a complete aesthetic, you can also get an assorted towel ring, or the toilet paper holder, both coming with similar finishes to the actual product.
What's the downside?
We've talked to a few experts about this product, and it seems Delta stands behind their lifetime warranty. Unfortunately, it takes quite a while to have replacements shipped.
On top of that, there's quite a common issue with how tight the valves are, which may lead to more leaks in the long run.
Features:
Lifetime warranty
3 hole set-up
EPA certified