This Delta product comes with a very attractive curvy design, and the trappings of quality.
But, is it a bathroom faucet you can generally count on?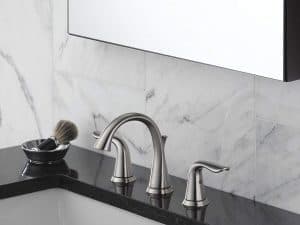 We have to praise how energy saving this one is. With a small pressure of 60 psi, it meets the EPA standard for water consumption, all while having a decent output. This means that you'll save on your electricity bill if you have an electric water heater, because now you have to heat less water up. You'll also be covered by Delta's lifetime warranty, so no worries about fixing this one.
If you want to find out more about the Lahara Collection, check this video.
When it comes to technical details, this Delta product fares similarly well.
It comes equipped with the signature Diamond Seal technology, which we've already explored, maintaining high quality in terms of overall functionality.
To top it all off, the design is one of the most versatile out there. You have four finish variations to choose from, so you can adapt the Lahara Two Handle to most interior aesthetics. Plus, you can complete the look with matching grab accessories like Delta's towel ring or the towel bar rack.
With that in mind…
Design experts we've consulted with do not recommend using this piece with a modern theme. The widespread design (as well as the vintage colors) don't fit well in a "futuristic" bathroom, although you might be able to pull it off with the chrome variation.
Our scrutiny didn't find many problems with this faucet, but there are a few things to mention.
The main problem are the stoppers.
This might not bother everyone, but if you want to use your sink for something such as hand washing, you may have a problem. Delta is infamous for bad stoppers, and we actually received ones that don't make the sink fill with water at maximum capacity. They happen to leak many times, and they're made out of poor materials.
Another issue explained by a plumber is the water supply lines.
They're really small, and made out of rubber, which means they are more prone to breaking. This isn't an issue with Delta's lifetime warranty, but keep in mind that the supply lines are integrated into the whole circuit, so if one breaks, you'll need to replace the whole thing. That is covered, at the moment, by Delta's lifetime warranty, but it's an extra hassle you may want to avoid.
Features:
Diamond seal technology
Delta's lifetime warranty
3-hole set up