To the average consumer Delta's name may not ring out quite as loudly as other options on our list. Well, it would be a mistake to overlook the Delta 26-2250 as this saw is all about business and can handle larger stock than other sliding miter saws.
There's a lot to like about the Cruzer, but we're going to start with its flagship feature. That would be its cutting capacity. It's only 12-inches but has a unique arm capable of making an 18-inch crosscut. It's made from military grade aluminum and set up to let you adjust the travel to suit your preferences.
That's impressive, and so is the wide sliding fence which gives you the ability to cut crown up to 7.5-inches nested. Needless to say, vertical baseboard is no problem as long as it is under 6.5-inches or shorter. Miter capacity for this saw is set at 60-degrees to the right and 50-degrees to the left.
The bevels are 45-degrees either way with seven positive stops. The cutting capacity is impressive on the Delta Cruzer, and something you really need to see for yourself….
Almost every component of this saw is high quality and built to last. All the blue parts on the Cruzer are made from plastic, but everything else is aluminum or steel with a few exceptions. Ease of use is high as well thanks to features like a push-button miter detent override control. The only downside is the handle which is beefy but has a trigger set to one side.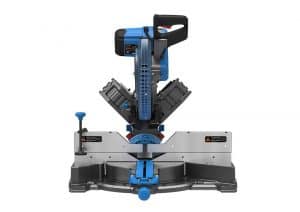 The 12-inch Cruzer has a 15 amp motor with a speed of 4,000 RPMs and an electric brake that will slow things down quickly. It has a 1-inch arbor hole and weighs 57 pounds although it won't take up much space on a shelf with its design. Its 25.5-inches wide and only 30-inches deep as that cool sliding arm cuts down on the space required to run this saw.
You can scoop up the Delta 26-2250 Cruzer in two different sizes as there are 10 and 12-inch models. Both come with the same accessories out of the box which includes a blade wrench, owner's manual, work clamp, and dust bag. It comes with a blade of unknown origins and a 5-year warranty as well, but you'll want a stand for this beast unless it will reside on a bench.
Features
15 amp motor w/ electric brake
Military grade aluminum arm
Wide sliding fence
1.5-inch dust port