The DeLonghi HMP1500 is a mica panel radiative space heater that weighs only eight pounds and measures 27 x 10 x 22 inches. It comes with a sleek slim design and all the necessary equipment in case you want to mount it on a wall.
We managed to adjust easily when setting the ideal room temperature thermostat and three heat settings. The high setting provides a power output of 1500 watts and 750 watts on the low setting.
But, is it safe?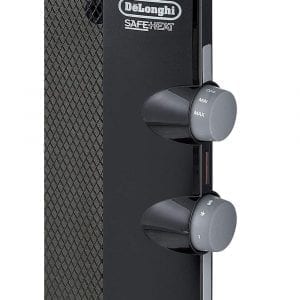 Yes. It includes a thermal cut-off in case of overheating and an internal tip-over switch in case it is toppled over. The power/caution indicator lights are also well positioned and useful.
We found the DeLonghi HMP1500 to run quietly and put out a gentle, clean, and safe heat. Thanks to its Mica Thermic technology, this heater provides instant heat--something we found impossible with conventional oil radiator heaters.
As an added bonus…
This appliance does not get hot to the touch even after hours of use with the setting on max, making it perfect for anyone with kids and pets in the house.
This heater easily increased the temperature of the small and medium-sized rooms we tested it in. However, the heat was not evenly spread in the room; we attributed this to the lack of a fan inside the machine.
Thanks to its thin profile, this heater can even be hung as a decorative piece and your neighbors will not be able to immediately tell what it is. However, we recommend you put it as low as possible since hot air tends to rise and push cold air down.
We noticed a faint odor the first four hours of operating the machine after which it completely disappeared.
Features
Several auto-shut off features
Power/caution indicator lights
Mounting kit
Lightweight and compact design
Remote control