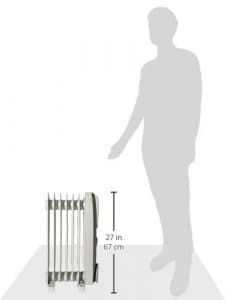 The DeLonghi EW7707CM is an oil-filled radiative heater weighing 25 pounds and measuring around 14 x 25 x 11 inches.
This space heater is pretty big.
Inside, it's designed using patented thermal slots meant to maintain a low surface temperature while maximizing heat flow. It includes seven fin-heating elements filled with oil and permanently sealed to provide the maximum heat.
The three heat settings on the control panel are easy to use, ranging from 700 watts on low to 1500 watts when on the highest setting. It also has a thermostat we found very accurate when it comes to maintaining your ideal temperature.
One is enough to keep a medium to large sized room comfortably warm even on the lowest setting. Overall, they're very well constructed and look nice.
We weren't entirely impressed with the DeLonghi.
We found this space heater to do a bad job when it comes to raising the temperature of a room, which is expected from radiative heaters. However, after warming things up with the central heating unit, this heater is perfect for maintaining things at the desired temperature while keeping your bills low.
We noticed moving the EW770CM around when it's on is quite difficult since it gets really hot and is heavy. It would have been easier if it had two handles – on the back as well as the front.
Features
Contains 7 permanently sealed fin heating elements filled with oil
ComforTemp button to maintain the ideal room temperature automatically
Comes with an adjustable thermostat and three heat settings
Installed with wheels that do not need any assembly for use
Thermal cutoff for preventing overheating and an anti-freeze setting to prevent pipes from freezing