If you're a professional, you may own a Dalluge hammer, but it's a brand often overlooked by new builders. Well, that would be a mistake as they make some slick tools like this unique 16-ounce hammer that's packed full of friendly features.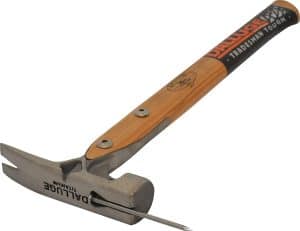 The Dalluge 7180 has a 16 oz titanium head with a serrated face to prevent slippage. It has a nail holder in the top of the head, but it's a bit different from the rest. It can handle regular nails but also deals with Duplex nails which are difficult for other hammers. If you're not familiar with the style, it's like a temporary nail with a collar and very, very useful with construction or remodeling.
On the rear of this hammer lies a reinforced rip claw that's straighter than others and quite compact. It can do some damage, and you won't have to worry about a bad strike. The Dalluge titanium hammer has an overstrike guard that tapers down from the head into each side of the hickory handle. There's also a side nail puller, and the company says the handle is shock absorbing although it's wooden and sans a grip.
Sometimes you have to pay up for top quality tools, and that's the case with the Dalluge titanium hammer. It's pricey and in the pro class, but could be the last hammer you have to buy for a decade if you treat it with care. This particular model is available with your choice of a milled or smooth face, and all Dalluge hammers come with a warranty through Vaughan & Bushnell Mfg.
Features
16-ounce head
Magnetic nail holder
Overstrike protection
Side nail puller