Sometimes you don't need a large pancake compressor or double-stack. If you simply want to air up bike tires or beach balls, even the best small air compressor can be overkill for your needs. That's where gadgets like the Cycplus Mini A2 come in handy as it's small but still packs a punch.
The word "small" gets thrown around loosely at times, but you can usually believe the hype in the air compressor world. Well, this one is the smallest inflators on our list measuring only 7-inches and around 2-inches in diameter. You can store it in your glove box, on a motorcycle or clip it onto a bike with ease. To say it has an unusual design would be an understatement and it's a decision that does have a few drawbacks.
Cycplus went with a pill shape design for this compressor with a small LCD panel on the front and a few buttons for the controls. It's streamlined but doesn't "sit" like other compressors and its round. That means placement could be tricky depending on what you plan to air up. While it's a nice looking compressor, it's not what we could consider rugged thanks to a plastic shell.
Just how fast is it?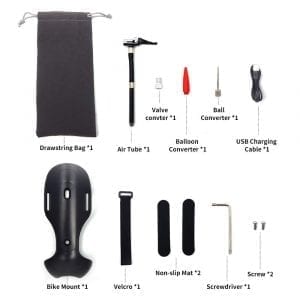 Thankfully, the company provided this little pump with enough juice to tackle some tall tasks despite its diminutive and awkward nature. Cycplus installed a rechargeable 500mAh battery in A2 with a charging time of 2.5-hours.
The battery is rather small but provides enough power to pump up 30 basketballs or a few flats. With the latter, it depends on just how flat they are. It's quicker than expected, but still not "fast" as you can do a bike tire in around 2-minutes or a car tire in under 10.
Want an air compressor that can charge your phone?
Good luck finding a Porter-Cable that can do that, but it's no problem for the Cycplus Mini A2. That 500mAh battery doubles as a power bank, so you can charge your handset up while you ride. Whether you prefer vehicles with four wheels or two, you'll be thrilled with the built-in LED light.
That light can give you up to 7-hours on a full battery, and the included bike mount and accessories are a nice touch as well. The built-in pressure gauge gives you a readout on different measurements but can be difficult to read indoors or outside. If you need to see those readings but want to stay digital, the AstroAI gauge would be a fine accessory. The Cycplus A2 has a 1-year warranty on repairs and comes with a money back guarantee.
Features
Only 335 grams
Built-in LED light
150 psi max
500mAh rechargeable battery