If we're talking about brewing the perfect cup of Italian espresso, we simply cannot skip this little beauty. Coffee-lovers all over the world are talking about this as one of the best stovetops available.
The 18/10 stainless steel ensures that Cuisinox Roma Espresso Maker is durable – and it looks like it came straight from the future. The shine is nothing short of amazing, with every part looking smooth and sleek.
You really get your money's worth with this one…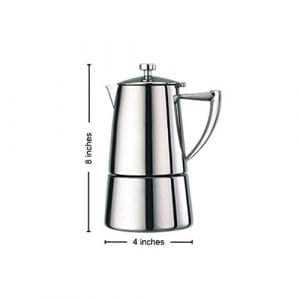 The design is great, but it's not the best aspect of this stovetop. As its name says, Cuisinox Roma 6-cup Stainless Steel Stovetop Moka Espresso Maker can produce six cups in a single brewing.
Now, listen to this!
Unlike many stovetops out there, the Cuisinox Roma Espresso Maker actually works perfectly on all cooking surfaces. That means, you can use it both on electric and gas stoves. Our experts agreed this was a great feature to have.
Especially if you'll be travelling with it and could potentially encounter a variety of stove types.
Plus, it'll make perfect espresso regardless of the stove.
It's practical, reliable and durable. It's fairly easy to maintain, and it consistently makes great coffee.
Everything you need in a stovetop espresso maker.
That's the reason why so many coffee aficionados go with a Cuisinox Roma Espresso Maker as their stovetop of choice.
As for the complaints…
Well, nothing's perfect… And the same can be said for the Cuisinox Roma Espresso Maker.
What most people complain about…
The handle.
Although it's firmly welded, it has a major drawback.
It heats up quite easily.
Many of the consumers we consulted mentioned this as something that continues to bug them. Some people have "advised" to use preheated water and thus solve the problem.
But it's not the same thing.
Many coffee lovers don't want to use preheated water, and stick to using cold water.
Also, if you leave the handle directly over the heat source – it will heat up quickly.
In addition to this, it's much better to clean the maker by hand than put it in a dishwasher.
Features
Made of 18/10 stainless steel
Works well on all stove types
Sleek design
High-quality seal
Firm handle