The "awesome" Cuisinart GR-4N 5-in-1 Griddler is a shape-shifting, versatile culinary tool. This countertop griddle includes a floating cover (which automatically adjusts to the thickness the food being cooked) and two removable nonstick griddle plates. These plates are reversible (grill on one side, griddle on the other); one fits inside the base and the other inside the cover.
Here's where the magic happens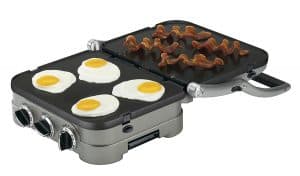 When folded over to cook food on both sides between the bottom plate and lid plate, this model works as a contact grill or panini press. Open it up, adjust the plates as needed, and voilà–it becomes a full grill, full flat griddle, or half grill/half griddle.
Use the grill side of the plates to grill steaks or panini sandwiches. Use the smooth griddle side for pancakes. Unfolded to full size, the Cuisinart GR-4N 5-in-1 Griddler can also cook at one time a lot of eggs, bacon, pork chops, shrimp, fish, toast, chicken, filet mignon, grilled cheese sandwiches, quesadillas, bratwurst, and more.
Something extra
You can make waffles using the Cuisinart Griddler Waffle Plates (not included).
Generally, customers feel this grill griddle combo "works well." Some people say it heats and cooks evenly while others disagree. Several users find it doesn't maintain a constant temperature well. When heating up the Cuisinart GR-4N 5-in-1 Griddler, be sure to close it; preheating is slow in the open position.
Temperature control is easy; two knobs control the temperature and one selects the function. We read reports of the knob caps coming off easily.
Warning:
Don't touch the anything but the handle when the unit is in operation–it gets very hot ♨ (even the lid).
The Cuisinart GR-4N 5-in-1 Griddler's plates snap in and out for quick switches. Plastic buttons that hold the grill plates are not strong; a few cooks report plates popping out during use. This grill griddle also has a convenient removable drip tray that collects grease. Several people wish the tray were larger to hold more.
Good news
The griddle plates and the drip tray are removable and dishwasher safe. Just let the grill griddle cool down before detaching the plates.
To learn more about the Cuisinart GR-4N 5-in-1 Griddler, watch ?this video review and demonstration.
Features
Dimensions: 13 ½" x 11 ½" x 7"
Cooking surface: two 11" x 9" plates (up to 200 square inches)
Weight: 13.20 pounds
BPA Free
Limited 3-year warranty