The multifunctional Cuisinart GR-150 Griddler Deluxe works in six different ways: as a contact grill, panini press, and top melt (when folded with its floating cover) and a full griddle, full grill, half grill/half griddle (when open). This countertop griddle grill includes two removable nonstick griddle plates. These plates are reversible (grill on one side, griddle on the other); one fits inside the base and the other inside the cover.
How big?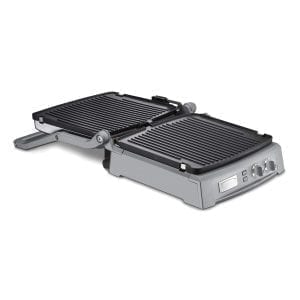 When open, this model accommodates up to 12 pancakes on the full griddle; when folded in the contact grill position, it fits up to six burgers. This griddle grill can also cook pork chops, chicken, fish, pancakes, sandwiches, veggies, quesadillas, steaks, and more.
The Cuisinart GR-150 Griddler is small enough for some, yet expands to two griddle plates when needed. Several users feel it's a bit large for storage.
Get this
The cover's height is adjustable to sit on top of the food without squishing it–just cooking it evenly. Overall, this unit heats up quickly and uniformly. It has separate temperature controls for the top and bottom plates. Therefore, combination cooking (e.g., warming tortillas on one plate while sautéing chicken and veggies on the other) is possible!
Wait, there's more
Users like the SearBlast feature that sears steaks at 500˚F for two minutes. They warn that grill gets very hot and can smoke a lot.
Although The Cuisinart GR-150 Griddler has a drip tray, its design doesn't make this griddle grill mess-free. The griddle plates aren't tilted to drain the grease to the tray. Also, the top plate is open, grease and food drip down onto the countertop, not into the drip tray.
But the good news is…
…both grill griddle plates are dishwasher safe (in case you don't want to hand wash them). Cleaning the base is easy–simply wipe it down.
To protect the nonstick plates, be sure to use utensils like those in the Wilton Easy Flex 3-Piece Silicone Spatula Set.
In terms of durability, we read reports of it going strong at up to five years. On the other hand, for its price, consumers want it to last longer than then several months some experienced.
Features
Cooking area: 240 square inches
Dimensions: 14.6 x 15.7 x 7.6 inches
Weight: 13.3 pounds
Limited 3-year warranty