If you want to invest in a good 4 slice toaster, Cuisinart is the way to go. Their Touch to Toast model has brushed stainless steel housing, which makes it a good-looking device.
But how will it serve you?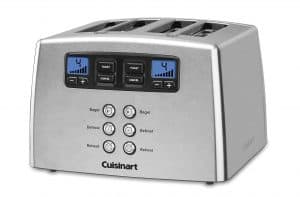 This toaster has seven different shade setting you can control by simply pressing buttons. It defrosts, reheats, and toasts both bread and pastry. Thanks to separate controls, it can even make two different kinds of toast at the same time.
Wide slots allow you to use this toaster to prepare bread and pastry of all sizes. Its motorized lift makes it a lot easier to remove toasted food once it's finished. There's a countdown timer that will tell you exactly when it's time to do that. Removable crumb tray and hidden cord wrap make it easier to clean the device and prevent clutter.
When it comes to downsides, this model has two.
Although they're wide, the slots are too short for some pieces of bread. We've also noticed setting number 3 toasts unevenly.
Features
Stainless steel housing
4 toasting functions
Separate toasting controls
5-inch slots
Motorized lift
Countdown timer
7 digital shade settings
Removable crumb tray
Cord wrap